Accommodation is becoming a more attractive revenue stream for Pubs – But is your strategy keeping your offering competitive?
For regional hoteliers, accommodation – regardless of how large or small – has always been a significant revenue stream. In metro areas, where traditional accommodation hotels are a dime a dozen, having rooms for guests to stay in has not been as necessary a stream of operations. This has changed in the last eighteen months, as metropolitan operators, like their regional colleagues are now seeing the value in accommodation, and offering potential guests an alternative to the bigger chains or expensive boutique hotels. And it's not just Aussies that are turning to pub accommodation, but international tourists as well, who are looking to budget on that one main expense so they can spend more on other activities.
"It was clear back [in 2014], that not a lot had been undertaken in the pub industry to utilise empty guest rooms for short-term stays as opposed to long-term stays. Short-term stays are far more viable to the pub, with higher nightly rates being achieved, and the flow through of revenue from those guests into food and beverage downstairs in the pub," says Armstrong the general manager of Pub Rooms, a marketing and booking system provider for pub stays.
While renting out rooms long-term may seem an easier and more convenient option, the revenue possibilities are nowhere near as large. So what can operators do to make their short-term accommodation stand out? First and foremost, you've got to get the basics right.
WHAT GUESTS WANT
Working with more than 50 pubs across the country offering over 700 rooms, Pub Rooms have a gained a sense of what guests are looking for in pub accommodation: "Guests look for clean rooms and facilities, a friendly smile, a helping hand with their bags and a good meal."
Inclusions within a room can vary greatly, depending on the market that's being catered for. Free wi-fi is one of the biggest requirements guests have from their accommodation providers. At Pier Hotel in Coffs Harbour, on the North Coast of New South Wales, owner Warren Skinner and Benita Walker have gone a step further, introducing free wi-fi throughout the entire hotel. The Skinners completely refurbished their accommodation offering a few years ago as part of a larger refurbishment of the entire venue. Since then, Benita Walker has said that accommodation "plays a vital part" in the hotel's revenue.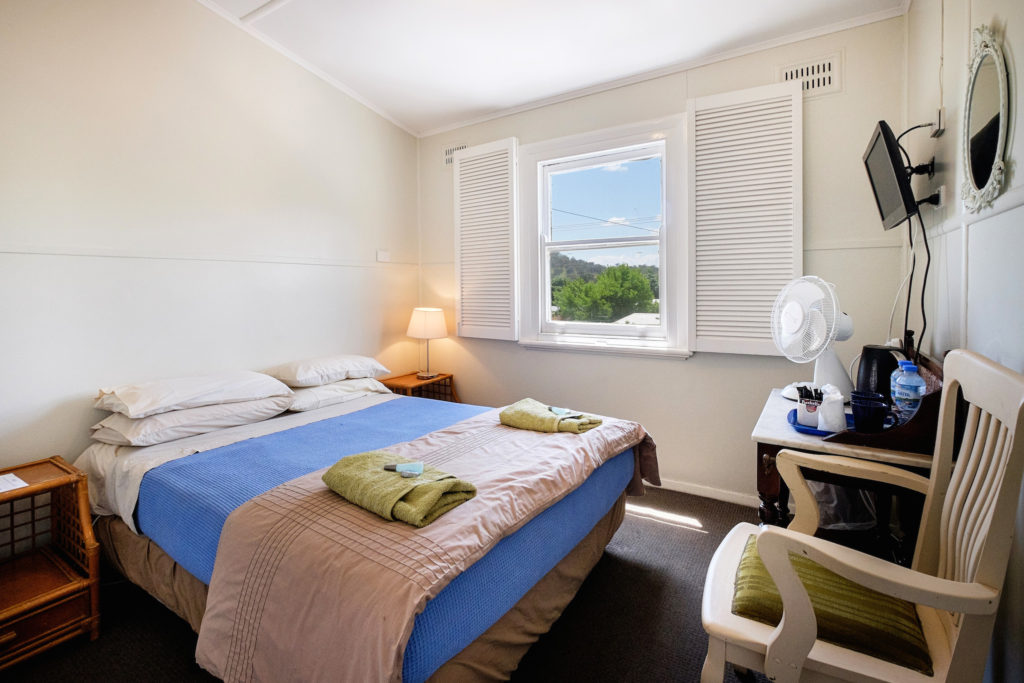 What also can make pub accommodation more enticing than traditional hotels, are the discounts and extra benefits available from the wider venue, which are included within room rental. At Hotel Palisade, guests are offered a complimentary beer or wine on arrival, and they are also allowed the exclusive privilege of booking a table at the venue's cocktail lounge, Henry Deane, outside of normal booking times.
These kinds of discounts and bonuses are a win-win, adding to the attraction of your accommodation, and encouraging further spend within your premises.
KNOW YOUR MARKET
Just like any other stream of pub operations, accommodation should be tailored towards the market you attract with your venue. Where high-tech gadgets and wi-fi might impress most demographics currently, this does not mean that it is essential for every hotel.
Case in point is Rudd's Pub in Nobby, in the Toowoomba region of Queensland. Robyn Little and her husband purchased the pub 11 years ago, and immediately set about refurbishing their three accommodation rooms. Halfway between Toowoomba and Warwick, and a two- hour drive from Brisbane, the area sees plenty of grey nomad tourism – an opportunity which the Littles took advantage of.
"We refurbished the rooms in 2011 and made them as quirky as we could. You shower under a rain water tank, pull on a beer tap for water in the basin, and enjoy a home cooked hot breakfast to finish off your stay," says Little.
Twelve months after refurbishing the accommodation, Rudd's Pub won an AHA award for their accommodation, and have done so every year since, either at the state or national level.
"I believe we have won the awards due to the careful consideration we gave the planning of the rooms," says Little. "We wanted them to be comfortable, with ensuites, and we wanted them to be quirky so that people walked in and said 'wow'. We wanted our customers to have an experience – not just a stop-over."
It's little touches like home-made jam drops and photographs of yesteryear within the town, that make this hotel a fave with the caravanning crowd. And Little says it takes very little technology on the venue's part to keep the rooms booked.
"We have many repeat customers and we always get great feedback when we farewell our guests after breakfast. Our rooms are very rarely empty at weekends, we don't actively market them, mostly people found out about our rooms from word of mouth or from our website."
THE AIRBNB ISSUE
For traditional accommodation providers, the prevalence of share economy giant Airbnb – where private citizens rent out accommodation – has been a major disruptor. While this has not had much of an impact on pub accommodation (in fact none of the publicans that Australian Hotelier spoke to said it had any effect on their business), Frank Sorgiovanni, head of research Asia Pacific for JLL Hotels & Hospitality Group, suggested that publicans should be on their guard.
"Overall, alternative accommodation operators like Airbnb are a threat to the hotel industry at all category levels now. Airbnb has started to go after business travel as well with some success. The only way to combat the 'disruption' is for the hotels to partner with Airbnb (or the like) and increase their own distribution by advertising their own competitive hotel products in markets popular with alternative accommodation."
Marketing is indeed a vital component of getting your rooms booked (more on that below), and Sorgiovanni suggests that operators who introduce ground-breaking concepts to their accommodation offerings, will also prevail. He gives an example below offered by traditional hotels.
"Last year Accor Hotels acquired One stay. One stay is a London- based start-up that provides an Airbnb for high-end homes combined with a hotel-like service for hosts and travellers. They plan to expand aggressively in Asia and beyond. No reason why this can't happen as well in budget accommodation operators, particularly in Australia."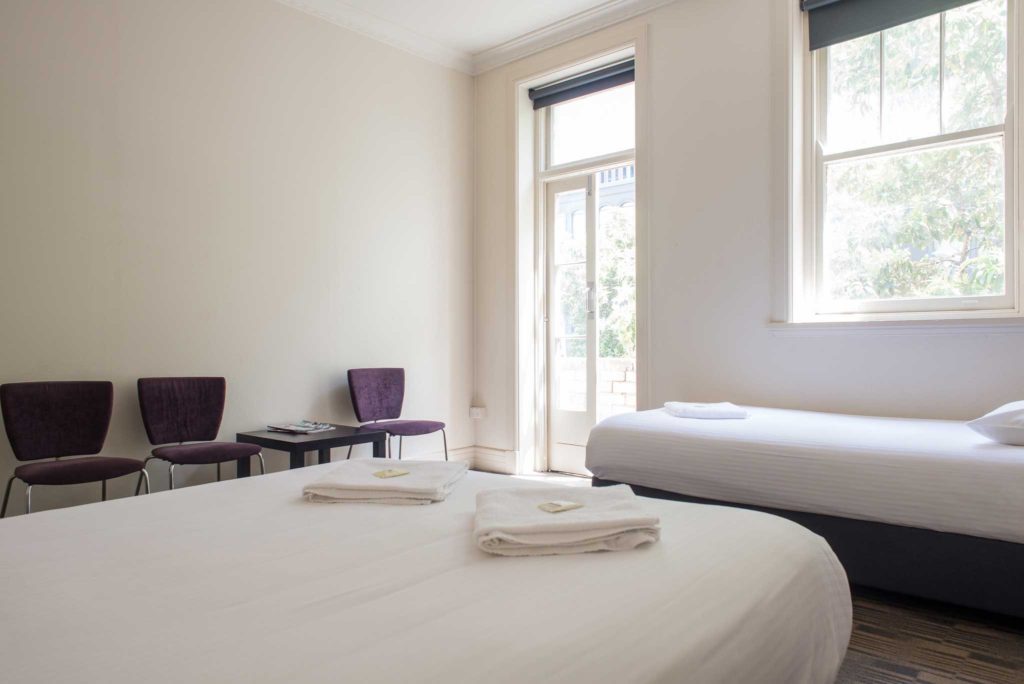 Criterion Hotel Room Sydney
THE ONLINE REVOLUTION
While share economy accommodation is definitely something for hoteliers to monitor, Pub Rooms suggests that the biggest thing that is currently holding back pub accommodation is the lack of online advertising – where the majority of consumers search for options.
"What has affected the pub market is the industry's lack of mobility in making the change to online reservations systems. To make your pub stand out from the crowd, you've now got to be transacting bookings online. Over 60 per cent of all bookings are now made online, and this is increasing year on year."
Pub Rooms suggests that it's not enough to just have your accommodation on your own website, as – just like when looking for somewhere to eat or drink – consumers will do their research and compare several options.
"Potential lookers are Googling for accommodation in a certain location. If you're not listed then you're not even making the shortlist! When a pub commences with us, we ensure that they are listed on all of the major search engines – Google, Trip Advisor, their local state tourism site and so forth. You must never just rely on your own website. People search in multiple ways to find accommodation."
While there is plenty to consider, the basics remain the same – make sure your rooms are clean, greet your guests with friendly service throughout their stay, and take heed of any feedback, whether negative or positive.
First published in Australian Hotelier Magazine March 2017.
Want to get your Pub accommodation selling online? Then contact us at Pub Rooms