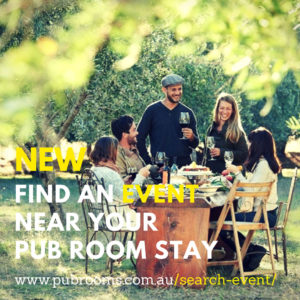 ** NEW TO PUB ROOMS **
Events & Attractions Australia wide
We are constantly thinking of ways to improve your online experience at Pub Rooms.We offer you one of the largest listings of pub stays in our online booking directory sites for affordable Pub Room Stays Australia wide, you can now see events and attractions that are on near where you're staying.
There are 2 ways of finding an event near where you will be staying.
1. You can click on the 'Events & Attractions' tab in the top navigation and go here: https://www.pubrooms.com.au/search-event/
2. Alternatively, you can find an Event or Attraction near where you're staying on every pub listing page eg. https://www.pubrooms.com.au/item/guildford-accommodation-hotel/ under Nearest Events & Attractions box.
There are many Events and Attractions all over Australia all the time, and here you will have the most recent and upcoming events in real time. Never miss a thing – This one is on the house!