Guests will feel right at home from the moment they walk inside this historic Bermagui Accommodation. Built in 1895, the Bermagui Beach Hotel has the relaxed ambience of a country hotel that oozes charm and comfort. Located in the heart of town, it stands across the road from Horseshoe Bay and is moments from local landmarks, the Blue Pool and the Fishermen's Wharf.
This Bermagui Accommodation has 18 rooms and three different room categories, there are accommodation options to suit all guests' needs. Bunkhouse rooms are perfect for budget travellers wanting basic accommodation, they include shared bathroom access, towels, and linen. The Motel rooms and Hotel suites all have ensuite bathrooms, televisions, toiletries, mini fridges, towels, linen and free wifi.
The Hotel bistro is known as 'Palm Bar' is popular with locals and visitors, and has a reputation for offering fresh, quality meals. The Palm Bar is family friendly and is perfect for groups large or small.
Bermagui Beach Hotel has entertainment on offer for locals and guests, with live music on the weekends. During late September and late November, the hotel is a popular spot for whale watching. The Bermagui Beach Hotel is at the heart of it all.
 With black marlin and yellowfin tuna, Bermagui's deep blue waters are great for game fishing. Join a fishing tour to the best ocean locations. Wallaga Lake is popular for fishing, too. You can savour fresh seafood dining by the water at Bermagui Fishermen's Wharf.
A beautiful Sapphire Coast town, Bermagui is famous for deep-sea game fishing. With the continental shelf only 20 km offshore, discover the thrill of game fishing in the deep blue waters for black marlin and yellowfin tuna on fishing charters that depart from Bermagui Harbour.
The pretty harbour is home to Bermagui Fishermen's Wharf, where you'll find delicious takeaway fish and chips and restaurants serving locally caught seafood, a wine bar and gift shops. Every Thursday afternoon browse local produce at the growers market on the harbour foreshore.
Classic King Room, Ensuite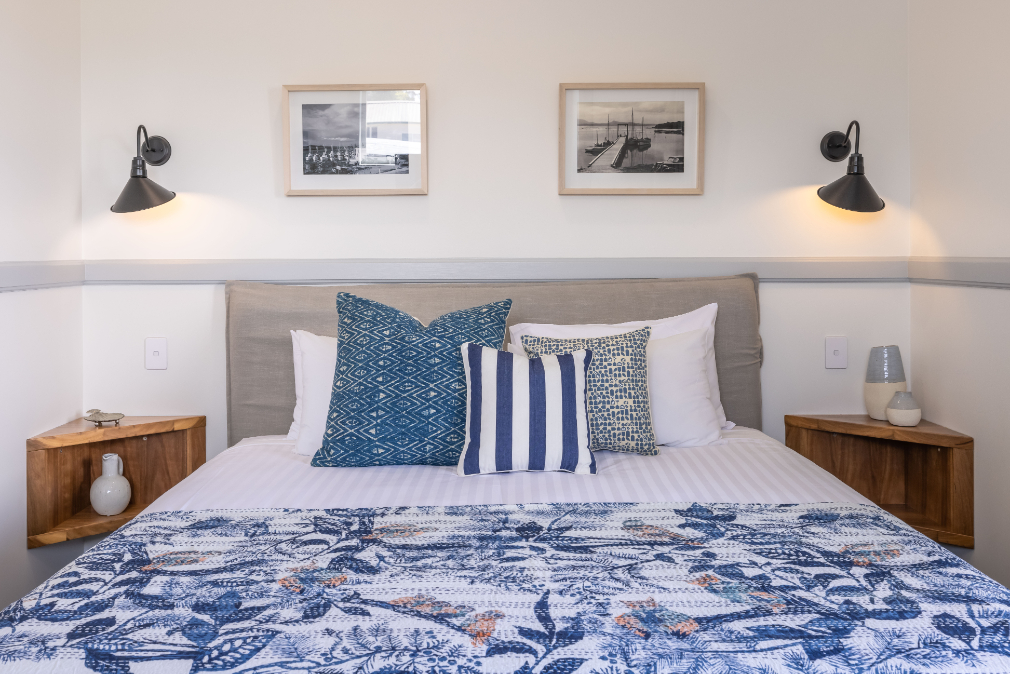 Classic King Room, Ensuite
Room Features: • King bed • Ensuite bathroom • Bed linen and towels These rooms are featured in the old historic section of the Hotel. Room amenities include a fridge, microwave, smart flat screen TVs and toiletries.