Established in 1887 as the Ballarat Hotel, this grand property, along with new ownership was renamed as the Great Ocean Road Brewhouse in 2015. The Apollo Bay Accommodation has new owners and passionate locals and the stage is set to recreate this historic hotel to her former glory days.
The Brewhouse offers 8 budget-friendly accommodation rooms, suitable for single travellers, couples, families, small groups and backpackers. The range of accommodation includes Queen Rooms, Twin and Triple room options, and Family Rooms. All rooms provide the conveniences of fresh linen and easy access to the shared bathroom facilities. All rooms are located on the second floor.
The Brewhouse offers a family-friendly atmosphere perfect for small groups, families, and friends. The hotel facilities include the bistro with delicious local produce food, outdoor seating, and live music. Specialising in Craft Beer and Craft Cider, visitors can drop into the tasting room, The Taste of the Region, to sample local beer and wine and enjoy a produce platter showcasing local products.
Tastes of the Region is located behind the Brewhouse in McLaren Parade. Here we offer beer and wine tastings, along with a fantastic selection of local produce.
Enjoy a paddle of 5 local Prickly Moses handcrafted beers or a tasting of 4 wines from the region. Talk to our knowledgeable staff about the beer-making process, and browse from a selection of over 100 local, Australian and International craft beers. We offer a fully-stocked bottle shop for takeaway items.
Tastes of the Region also has a great selection of local produce from the Otways and Great Ocean Road regions that you can take home with you. You'll find locally made cheese, premium meat products, herbs and spices, delicious chocolates, a range of jams, chutneys, and oils, locally produced honey, and lots of other tasty treats as well as handcrafted gifts and souvenirs. We offer a choice of three delicious produce platters.
Next time you're in Apollo Bay, drop in to visit Tastes of the Region!
Restaurant/Bar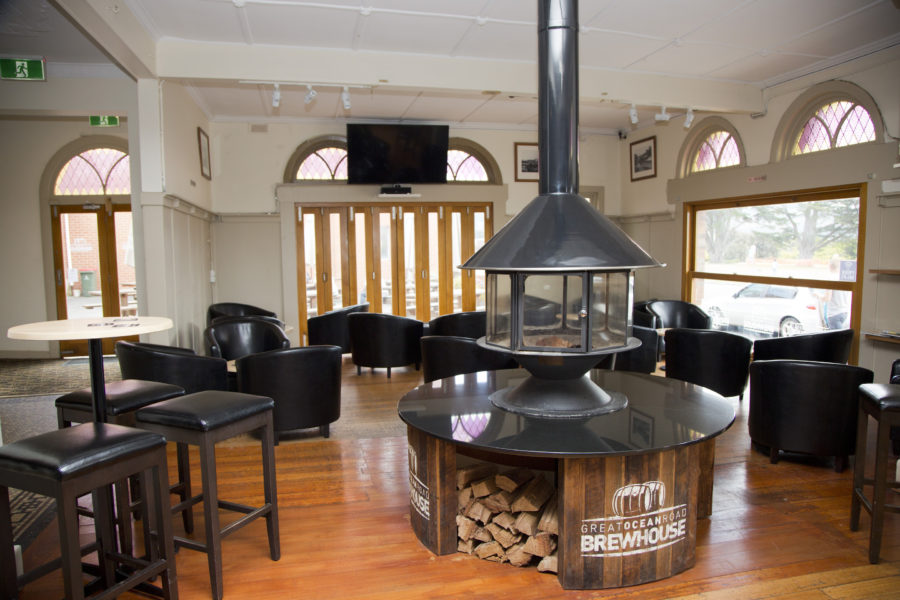 From the beer and staff to their presentation and ambience, everything at Great Ocean Road Brewhouse is specially created to give you the best experience you can have. Ingredients are as fresh as you can get and we support local farmers and producers. Therefore our menus change seasonally. Take into consideration that the wait time for meals may be slightly longer than usual during busy times.  A 10% surcharge is applicable on public holidays.
Opening hours:
Bar – Sun-Thu: 11 am- 11 pm Fri-Sat: 11 am – 1 am
Bistro – Lunch 12-2pm daily & Dinner 6pm-8pm (Fri/Sat 8.30pm)
To book a table in the bistro area, call (03) 5237 6240
If the dining area is full, there are still plenty of tables in the bar or beer garden
Contact us & destination Information