COVID UPDATE 1.11.21:
Due to recent Government regulations and public health orders applying to all licensed venues in NSW, the hotel is only accepting overnight guests who are double vaccinated. All guests on arrival will need to check-in via the QR code system and provide proof of vaccination certificates which will be verified upon check-in.
If you are not double vaccinated we unfortunately cannot honour your reservation on this occasion. Your booking will be cancelled and you will of course not be charged. If you booked with us direct we will refund your card at the earliest possible. If you booked with a travel agent like Expedia, Booking.com, etc. please contact the respective agents to have your monies refunded.
We hope to have the opportunity to host you in the future and apologise for the inconvenience.
The Ulmarra Hotel offers pub-style Ulmarra accommodation with seven rooms and is located 12km North of Grafton, perched on the bank of Clarence River.
Ulmarra Hotel offers comfortable, yet affordable accommodation. Room configurations include twin, double, queen and family rooms. Each room has a digital TV, DVD player and shared bathroom facilities.
The Ulmarra Hotel was built during Australia's federation period and represents timeless qualities of this time. Guests can enjoy views of the river and village from the verandah that features beautiful cast iron lacework.
With a beautiful wrap around verandah on the second floor and one of Australia's best beer gardens (ranked number 5 by the Daily Telegraph for the best beer garden in NSW), finding a better place to spend a sunny afternoon in Ulmarra would be a struggle. Other facilities include a pool table, bottle shop, TAB and Café Clarence restaurant.
Café Clarence is open everyday for lunch and dinner, serving up gourmet meals and Toby's Estate coffee. Enjoy the friendly pub atmosphere while enjoying a beer during your stay at Ulmarra Hotel!
Because of the proximity to Pacific Highway, Ulmarra serves as the perfect place to rest after a long day of driving. While in town, be sure to check out the Coldstream Gallery, showcasing the artistic talents of locals. The Ulmarra ferry transports vehicles across the Clarence River from Ulmarra to Southgate, offering a unique way to explore the area.
Restaurant/Bar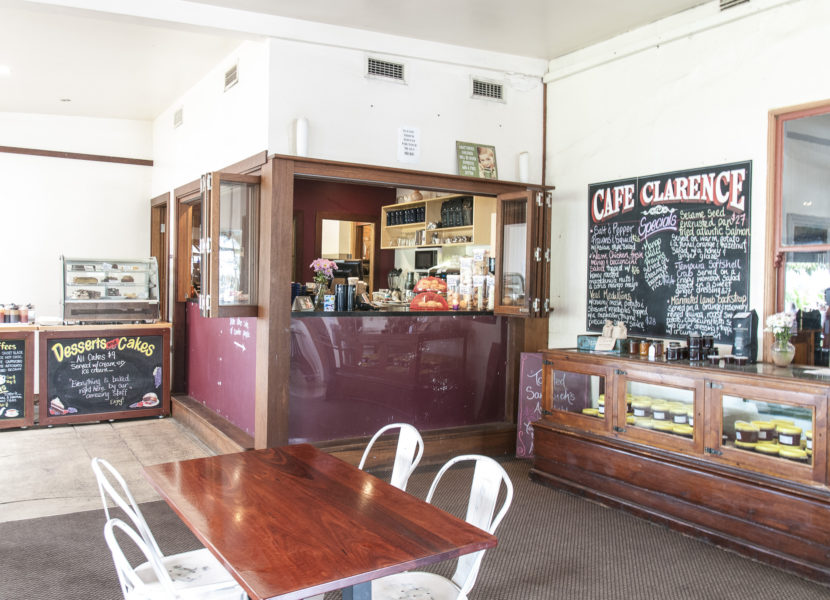 We are currently open.
Our Bar – Sunday to Thursday – opening times may vary
Our Cafe – Everyday for lunch and dinner
PIZZAS – Everyday
Entry is subject to the currently applicable Covid-related conditions
Contact us & destination Information