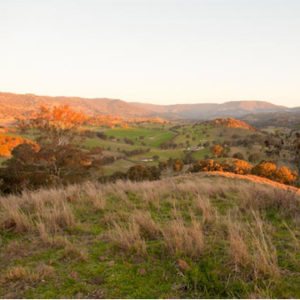 Nestled between the Peel River and the Great Dividing Range, the scenery is superb in this historic mining village in the New England region of NSW. Nundle is located approximately 50 minutes' drive from Tamworth and 4h 30min from Sydney.
Nundle was one of the first wool producing areas in Australia, with the first land grants in the region being to the Australian Agricultural Company in 1837 (Goonoo Goonoo Station) and the Wombramurra Station in 1847.
Nundle, soon after established its self as a mining town. Many joined the gold rush, including prospectors from California, Jamaica, Europe and China. They were spread out along the Peel River and up the mountain slopes. By 1865 the population was around 500 with about 50 businesses in operation. Nundle was declared a town in 1885.
The ruins of old gold mine equipment are scattered about the valley floor and up the mountainsides to date. Traces of gold are still found, along with a variety of gemstones, and people continue to pan on the Peel River or fossick in the Hanging Rock area.
The community celebrates its history in a number of ways, and there are some fabulous historic establishments that you can visit to understand its heritage and how the town of Nundle established its self.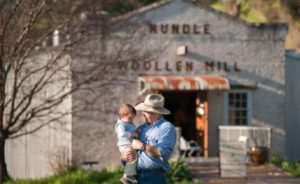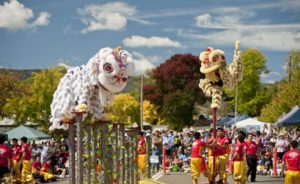 Events and attractions of Nundle:
Nundle Go for Gold Chinese Easter Festival – Held annually this festival celebrates the Chinese culture and their contribution to Nundle's heritage.
Nundle Woollen Mill – The town of Nundle now days is known for having one of the last spinning mills still operating in Australia. Nundle Woollen Mill is a must-see attraction for travellers visiting Nundle. The mill enjoys almost 25,000 visitors each year who see the antique machinery in work. Also available is an exciting selection of hand knits and Australian designer wool fashion.
The Peel Inn Hotel is a gold rush pub and hotel. It was built by William McIlveen in 1860 after the discovery of the precious metal at Hanging Rock. William no doubt hoped to grow prosperous as prospectors spent their money in his establishment. Unfortunately, it didn't work out as planned. Not long after opening his pub, he lost it in a card game. The new owner was John Schofield. Fourth generation publican Robert Schofield has run the hotel for the past 40 years with his wife Margaret and more recently with their sons Drew and Nathan and Nathan's partner Rebecca. The exterior has remained largely unchanged over the past century. It retains the frontier charm of the gold rush days, with decorative iron work, a Wunderlich tin-lined balcony and six metre deep verandah. The Peel Inn has been a friendly drinking hole for locals and a welcoming destination for travellers for more than 150 years.
Arc-en-Ciel Trout Farm – located high in the ranges at Hanging Rock, will show the diversity of the landscape. You can join a tour of the trout-growing ponds and see fish from fingerlings to harvest size, or do some catch-and-keep fishing in the farm dam.  If the trout don't jump on the hook, there's always the farm shop. Arc-en-Ciel Trout Farm is open three days a week.
Mount Misery Underground Gold Mine and Gold Museum – Situated in a restored coffin factory at the corner of Gill and Oakenville Streets, the museum focuses on the goldrush days and features a 120-m mine tunnel. There is some mining memorabilia, as well as crafts and antiques for sale. They are open seven days from 10.00 a.m. – 5 p.m. Telephone (02) 6769 3459
The Great Nundle Dog Race in May is a fantastic family day out, with novelty dog races and fun activities for kids.
Nundle Country Picnic in March – Try delicious regional produce of the area, held in the pretty grounds of the Nundle Woollen Mill, one of the last operating spinning mills in Australia.
Antiques – The Golden Opportunities Store in Jenkins St sells antiques, curios, stamps, coins, furniture, English china, gifts and souvenirs. It is open at seven days a week, tel: (02) 6769 3250.
Chaffey Dam – Chaffey Dam holds approximately 60 million litres of water and covers 542 ha. The embankment is 54 m high and 430 m long. The foreshores are quite beautiful. There are picnic-barbecue facilities and opportunities for camping, walking, power-boating, sailing and windsurfing. There are a variety of waterbirds to be seen, including pelicans, plovers, cormorants, ibis and wild duck and anglers may be rewarded with catfish, yellowbelly and trout.
Hanging Rock – Where the massive treeless rock face of Hanging Rock looms overhead. Once you have ascended the plateau (about 11 km from Nundle) there are two branch roads almost directly opposite each other. Lookout Road on the right leads to the rock itself where there is a scenic vantage point with excellent views of the chasm and the valley below.
Sheba Dams – Just beyond Hanging Rock village are the dams which were erected by hand over a three-week period in 1888 to serve the sluicing needs of the miners. This is a lovely spot for a picnic with friends and family. There are barbecue facilities in the picnic grounds. The beautiful bush surrounds are abundant with trees, birds, lizards, wallabies and pademelons. There is also a 1.2-km bush walk. This location is regarded as good fossicking country with zircons, sapphires and other semi-precious stones to be found.
Timor Caves – Timor Caves are a series of subterranean limestone caverns to the south of Nundle. Take the road south out of town. After 32 km you will come to a left which leads through Ellerston and on to Moonan Flat, Belltrees and Gundy. Just 2 or 3 km along this gravel road you will see a signpost indicating the whereabouts of the caves which are within walking distance of the road. The Timor Caves are easily accessible but good shoes, take a strong light and a good common sense are a must when exploring these caves.