The Port Macquarie Hotel is the area's most iconic and longstanding pub. Established in 1939, "The Macca", as it is affectionately known, sits in the heart of Port Macquarie just a stone's throw away from the beautiful Hastings River, and is perfectly located Port Macquarie Accommodation.
The Port Macquarie Hotel accommodation is a heritage-listed venue boasting budget pub-style accommodation with 20 comfortable rooms in the heart of Port Macquarie.
Whether travelling alone or with friends, Port Macquarie Hotel offers accommodation to cater for your needs with single, double, twin and triple room configurations.
All rooms are fitted with ceiling fans, wall heaters, bedside tables and toiletries. We also provide either a shared bathroom or ensuite option and a communal kitchen with fridge, kettle, and microwave.
Port Macquarie Hotel hosts exciting weekly events such as our Tuesday pool competition, Friday monster meat raffles and live entertainment every Thursday, Friday & Saturday evenings. The bistro has a range of fantastic food options from daily lunch specials starting at just $9.90 to generous servings of pub classics. Other facilities include Keno, TAB, multiple screens for live games, on-site parking and drive-thru bottle shop. Our fully operational venue is sure to keep you occupied during your stay.
The town beach is just a five-minute stroll from the Hotel, with several other beaches options 5-10 minutes by car. We are situated within walking distance of the Port Central Shopping Centre and local shops, cafes, bars, and restaurants. To really embrace the beauty of Port Macquarie, why not try the 9km coastal walk through several local beaches, picnic locations, and gorgeous coastline. Or get involved in some of Port Macquarie's activity options; Fishing, horse riding and golfing- to name a few.
We look forward to welcoming you to the Port Macquarie Hotel!
Double Room, Ensuite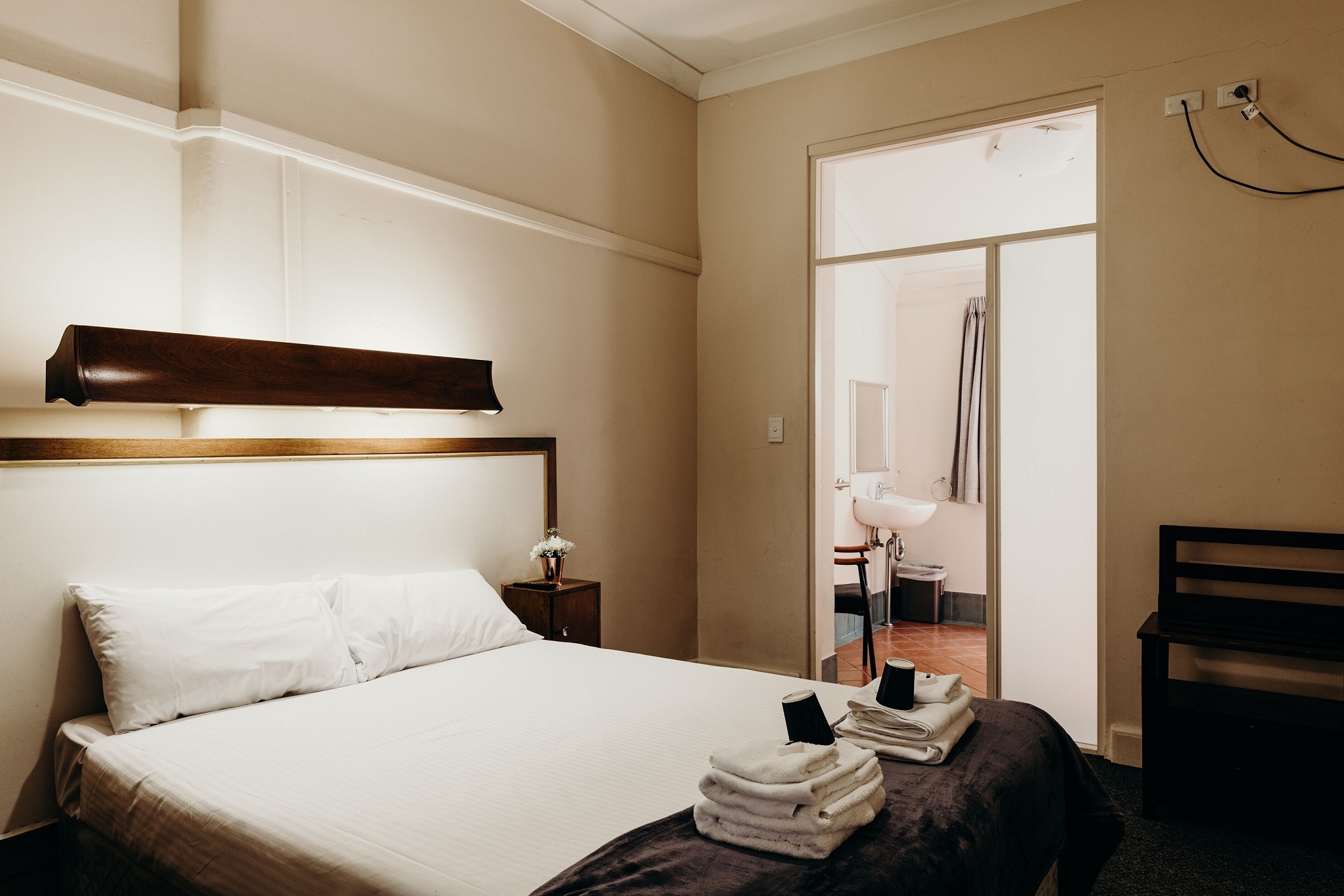 From $92.65000000000001
per night
Double Room, Ensuite
Room Features:
Double bed.
Ensuite bathroom with shower.
Fresh bed linen and towels.
Room amenities include a TV, ceiling fan and wall heater, bedside table and complimentary toiletries. GUESTS MUST BE OVER THE AGE OF 18.