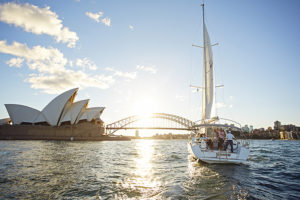 Known as the Harbour City, Sydney has so much to offer. There are some stand out qualities of Sydney, the weather, the laidback culture and the food. There is a fabulous variety of delicious cafes and restaurants serving quality produce, there really is a thriving café society here. Sydney people love their coffee as well as the laid-back lifestyle. The climate in Sydney is also very appealing most of the year with warm, sometimes humid weather in the summer, and mild sunny winters. Great for the active person who enjoys coastal walks and discovering the city. One of the biggest drawcards is our choice when it comes to spectacular beaches and of course the shopping! Below we have listed our top 15 places to visit and things to do while in Sydney.
Harbour Bridge Climb – see Sydney from up top of the bridge
Sydney Harbour is one of the most beautiful parts of Sydney and if you have the opportunity to do the Harbour Bridge Climb, you should. You will take a walk up four ladders and climb along the outer arch to the summit. You can choose to climb at different times of the day. If you manage to do the climb during the Vivid festival you will get a spectacular view of the Opera House lit up.
Sydney Opera House – take in the spectacular architecture and space
The Sydney Opera House is a multi-venue performing arts and entertainment centre in Sydney, Australia. It is one of the 20th century's most famous and distinctive buildings which changed the face of Sydney harbour. Jorn Utzon was the Danish architect who won the international design competition for the building to be built on the whole of Bennelong Point. See a show, take a tour or just visit it, it is truly breathtaking.
They also have a backstage tour which allows you access to the areas normally reserved for the stars and their entourages. As part of this tour, you'll see into the dressing rooms of the Concert Hall, Opera and Drama Theatres, Playhouse and the Studio. You'll hear the stories and get an insiders view of the workings of the most remarkable and iconic Opera House Sydney.
Catch a ferry to Manly
One of the most enjoyable and inexpensive things to do whilst your in Sydney is to take a ferry trip. You can see Sydney from a completely different angle as well as getting to your destination without having to sit in traffic! You can travel from the CBD to just about anywhere in Sydney. The Manly ferry is particularly impressive as on your way you get to travel past the Harbour Bridge, Opera House, Cockatoo Island, Toronga Zoon and numerous Harbouside beaches, all the way to Camp Cove then past the Heads over to Manly which you will no doubt love for its great bars, restaurants, boutique shopping and snorkeling. Best Pub Room accommodation in Manly is the Steyne Hotel Manly
The Rocks – for a bit of history
The Rocks is a historic area of Sydney's city centre and is located on the southern shore of Sydney Harbour. Discover its colourful history, from a British colony of convicts, soldiers and sailors to a thriving 21st century entertainment precinct. Walk the cobbled laneways, enjoy a cool drink in Australia's oldest pubs. For breathtaking views of beautiful Sydney Harbour, go to the Pylon Lookout. Best place to stay is the Australian Hotel
Walk around the Royal Botanic Gardens
The Royal Botanic Garden Sydney is a major botanical garden located in the heart of Sydney. Opened in 1816, the garden is the oldest scientific institution in Australia and one of the most important historic botanical institutions in the world. It is open every day of the year and access is free. It's located on Sydney Harbour shore and immediately adjacent to the CBD, the Sydney Opera House ensure it is one of the most visited outdoor attractions in Sydney. Best pub room accommodation is the Australian Hotel
Go surfing – at Bondi Beach
Surfing is so Sydney! If it is something you are acquainted to then you can't go past the local surfers at Bondi South end. If you have always wanted to give it a go you don't have to miss out, you can book a surfing lesson at Bondi Beach, with the Let's go Surfing School. Their instructors are qualified and will teach you the essentials when it comes to understanding the surf, how to spot a rip and ultimately how to paddle a wave. A surfing class lasts for approximately 2 hours.  Best Pub Room accommodation for this area is the Charing Cross Hotel
Toronga Zoo – for the Animals of course
There's always plenty happening at Taronga Zoo located in Mosman.  With over 4,000 animals to see, over 20 keeper talks and shows a day, tours, events & concerts, there's always a new reason to visit Taronga Zoo. Taronga Zoo is just 12 minutes from the city by ferry, with breathtaking views of Sydney Harbour and free shows and keeper talks throughout the day. Best place to stay is the Australian Hotel
Barefoot bowls Clovelly Bowling Club
The Clovelly Bowling Club was established in 1947 and it is situated on the cliffs at Clovelly right inbetween Bronte and Coogee. Soak in the salty air and enjoy the relaxed atmosphere and incredible views across the water. Barefoot Bowls is a great way to spend the day. The bar is fully licenced and you can bring your own steaks and snags to bbq on their facilities. Be sure to call them to make a booking 02 9665 1507. Best Pub Room accommodation for this area is the Charing Cross Hotel
The Enmore Theatre – for a bit of awesome live entertainment
For some awesome live entertainment with some of the most current lineups why not head to the Enmore Theatre. The Enmore is in Newtown which happens to be Sydney's unique heartland of live performance, music, cinema restaurants bars and cafes. Historic King Street Newtown is home to this eclectic and vibrant nightlife. Best Pub Room accommodation for this area is Southern Cross Hotel or The Annandale Hotel
The Unicorn Hotel Pub in Paddo – for a 'couldn't get more traditional' Australian pub feed
Stop in at the Unicorn Hotel in Paddington Sydney for a true dinky die dining experience with a fantastic array of Aussie beer, wine music art food and convo. Located on the city fringe of Oxford Street across the road from UNSW College of Fine Arts it is home to the eccentric locals of the area as well as the art students. The pub is owned by a bunch of mates who have established very successful restaurants such as Porteno, Young Henrys and Mary's. Can't beat the first entrée on the menu Jatz with French onion dip! Don't go past Pub Rooms at Darlo Bar 
Crown St Surry Hills – for food, art and some seriously cool vintage
Surry Hills is a total vibing part of Sydney. Here you'll find everything from boutique vintage shopping to funky art and designer interior shops. But more than anything you'll find some of the best cafes and restaurants Sydney has to offer. Crown street is also considered inner Sydney so your very central to everywhere. Best Pub Rooms accommodation for this area is The Crown Hotel
The Crown Hotel Surry Hills is also ideal accommodation if your planning a trip to Sydney and you're looking to stay near Allianz Stadium or the Sydney Cricket Ground for an event, or sporting final.
Sydney Fish markets – for an awesome seafood feed
Comprising some of the best names in the seafood restaurants and fisheries head to the fish market for an outstanding feed. With over 20 vendors from sushi, Vic's meat market, wine shop and De Costi plus many more selling their best quality produce you are sure to fill your bellies with some delicious seafood. Pub rooms pick the Criterion Hotel Sydney
Balmoral Beach – get set for a stunning harbour beach
If your heading north of Sydney you should check Balmoral off your list. Great for a soaking in the rays, walks along the sand, a swim in the sea and top it all off with a great feed. Hang out with the locals feed the seagulls and basically chill. What more could you ask for? Pub Room picks the Bridgeview Hotel
Sydney Olympic Park – a fun day of adventure
Sydney Olympic Park was home to the official Sydney Olympics in 2000. Here you will find a large sport and entertainment complex. There is so much to do from Laser Clay Pigeon Shooting to Archery programs. Hire a bike and explore the area. Or head to the Aquatic Centre for a swim. You will find concerts, entertainers and sporting events at Stadium Australia or Qudos Arena. Ideal accommodation in a pub rooms accommodation near by is the Royal Hotel Ryde
Ride a horse – if you're after something a little different!
Get a glimpse to what life was like for Australian Pioneers, forget about the everyday hustle and bustle of city life and come enjoy a day with our beautiful horses amongst the luscious evergreen land of Scenic NSW Horse Riding Centre. Located only 20 min drive from pub rooms accommodation at Panania Hotel You will enjoy a truly unique Aussie experience. They offer trail rides and lessons for beginners or the more experienced also they have pony rides for the kids!
One last thing … If you love ice cream do yourself a favor visit a Messina, voted the best Gelato in Australia. You'll find the original shop in Darlinghurst which opened in 2002, Newtown, Bondi Beach, Pyrmont, Glebe, Miranda, Roseberry, Penrith, Circular Quay and many more.