The town of Jindabyne is located in the Snowy region of NSW. It is about a 6 hour drive from Sydney and approximately 2 hours drive from Canberra. Banjo Paterson Inn is located on Lake Jindabyne and has everything you will need to make your stay in the Snowy memorable.
From adventures to delightful, Jindabyne is awesome all year round. With a spectacular backdrop of Australia's highest peaks, pristine waterways such as Lake Jindabyne, and giant granite boulders dotting the Monaro Plains, the region is a postcard escape any time of the year.
You'll find many adventures to be had, from wine tasting at a cool-climate winery to fly fishing in crystal-clear waters teeming with trout. Everything you need to bring your adventure to life is available for hire from snowboards to fishing rods and mountain bikes, it's all here. From Winter escapes to summer activities in the snowy region there is so much for adventurers, triathletes, mountain bike and fishing enthusiasts as well as families, Jindabyne has you covered.
Scenic driving tours
The stunning scenery you'll find on the Khancoban to Kiandra drive which links the Alpine Way with Snowy Mountains Highway, in Kosciuszko National Park. See the scenic dams, historic huts, mountain forest, and see the highest town in Australia between Khancoban and Cabramurra. The drive crosses two dams used in Snowy Mountains' Hydro-Electric Scheme. Keep an eye out for reminders of Kosciuszko's gold-seeking past at Kiandra, near the Snowy Mountains Highway.
Kosciuszko National park
In the winter months, you'll find yourself in the stunning winter wonderland skiing, snowboarding, tobogganing and creating forever memories. Your options will include Thredbo, Perisher Blue, Charlotte Pass.
Once the snow has melted you can get your adventurer spirit on. The Thredbo ski runs transform into trails ideal for mountain biking. You can bring your own bike like we did or hire everything you need in Thredbo, and you don't have to be a pro to take on the mountain – there are trails for all levels of experience. You'll be able to do this starting between November until around April.
Horse riding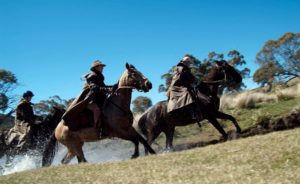 The magnificent NSW Snowy Mountains offers horse riding tours for all levels of experience. You are able to take tours that go for 1 hour to a whole day.
Experience the breathtaking beauty of the legendary high country on horseback. See the wild brumbies and live out Banjo Paterson poem 'The Man from Snowy River' experience in real-time.
Mount Kosciuszko
Mount Kosciuszko is Australia's highest peak at an elevation of 2,228 meters. You can enjoy a guided walk or hike up Kosciuszko for a stunning panorama of the beautiful Australian Alps and beyond. You have a couple of options for this exhilarating journey that varies in length. Start from either Thredbo or Charlotte Pass. From Thredbo its Kosciuszko Express Chairlift to the Kosciuszko walk, which is 13km return or four to five hours. Alternatively, the longer route is the Charlotte Pass summit walk is 18.6km return or six to eight hours.
Fishing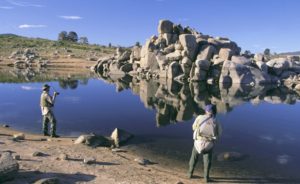 Get out there and cast a line all year-round in lakes and dams, in the Snowy region. Melting snow flows each spring into crystal-clear waterways, teeming with trout and native fish such as Murray cod and golden perch. Fishing in most rivers and streams is permitted from October to the June long weekend.
Thredbo River meanders from Thredbo to Lake Jindabyne and is a fly fishing haven. Near Bullocks Hut, at the junction of Thredbo River and Little Thredbo River, is a lovely fishing destination. Along the Tumut, Goobarragandra, Tuross, Snowy, and Bombala rivers are plenty of relaxing fishing spots.
Before you go fishing, you'll need a NSW recreational fishing license and carry the receipt with you. They're available from service stations, tackle shops, or online at Service NSW. You can keep up to date with all bag and size limits, and closure zones at the NSW Government's Recreational Fishing. In summer and the warmer months, you will find many activities
Yarrangobilly Caves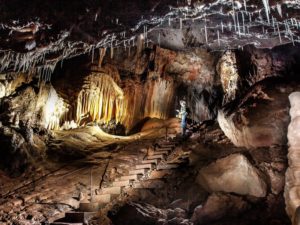 Yarrangobilly's karst landscapes were created from a belt of limestone laid down about 440 million years ago. Discover cave formations like stalactites and stalagmites, hollow straws and delicate helictites, to shawls, cave coral, and massive flowstones.
Karst environments are nature's time capsules, preserving evidence of climate change, floods, droughts, fires, animal and human activity.
Over the years, Yarrangobilly's caves have hosted researchers from universities, nuclear science organisations, and the Snowy Hydro. Don't forget to bring a coat as it gets very cool in the caves, you'll also want to bring your swimmers because once you've explored what's below ground, you can take the short river walk to the thermal pool above ground, where the water temperature stays at a constant 27ºC. Enjoy the magic of a winter dip!
A visit to the Snowy Mountains Hydro Discovery Centre
The Snowy Mountains Hydro-Electric Scheme an engineering wonder and is a symbol of Australian endeavour.
With seven power stations – two of which are underground, 16 major dams, and over 140 kilometers of trans-mountain tunnels. The Snowy Hydro Discovery Centre is a visitor facility showcasing the amazing story of the Snowy Mountains Scheme. From the early days to today.